SHOWS THAT HAD SPECIAL GUESTS CAN BE FOUND HERE!
ALL REGULAR PROGRAMMING
AND SPOILING THE DEAD CAN BE FOUND ON PLAYER LIST
AT THE HOME PAGE FOR NOW.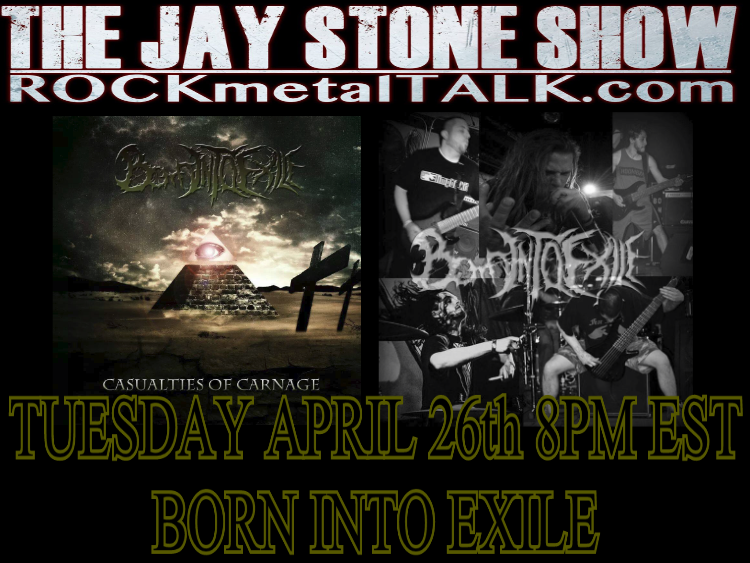 FUN SHOW WITH THE GUYS IN BORN INTO EXILE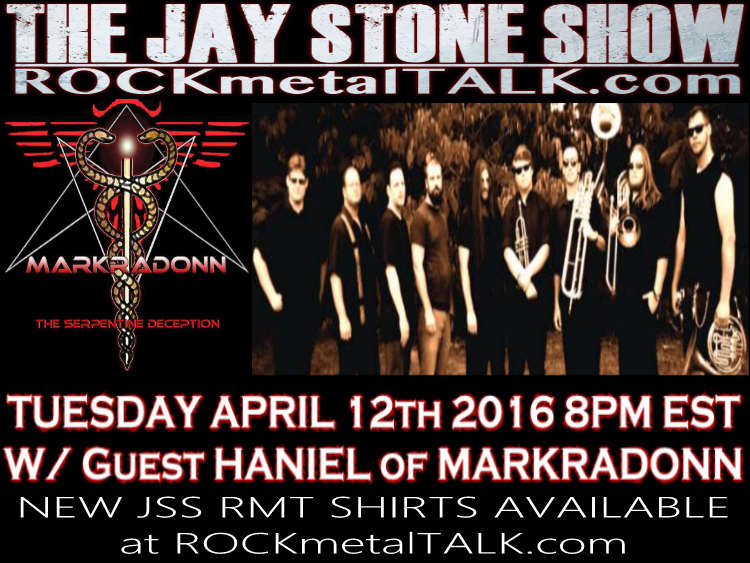 HANIEL FROM MARKRADONN CALLED IN TO DISCUSS ALL THINGS METAL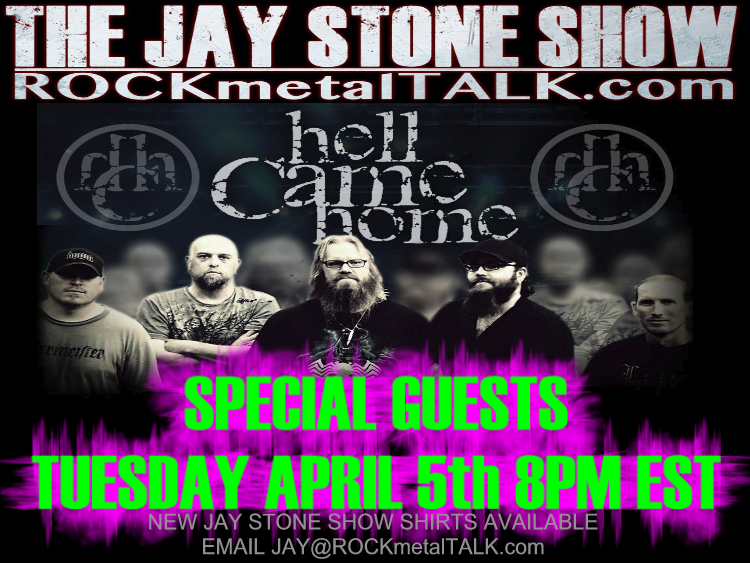 HELL CAME HOME CALLED IN TO DISCUSS THEIR NEW ALBUM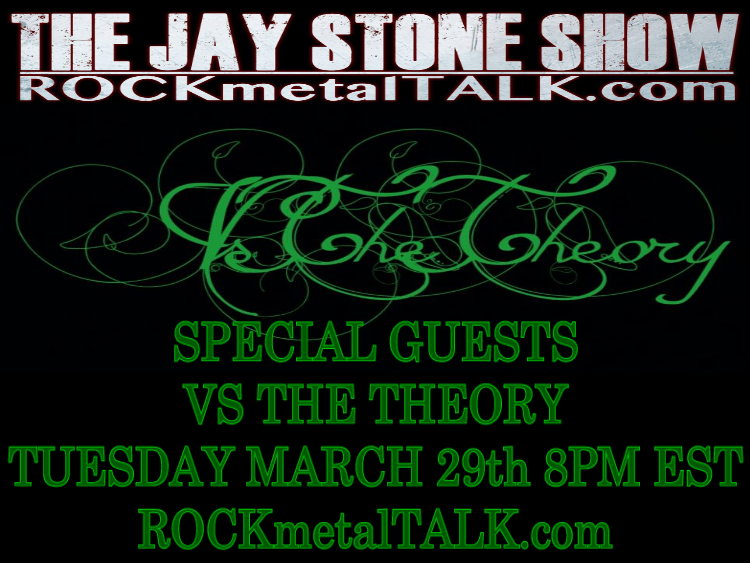 VS THE THEORY called in to talk about the band and upcoming CD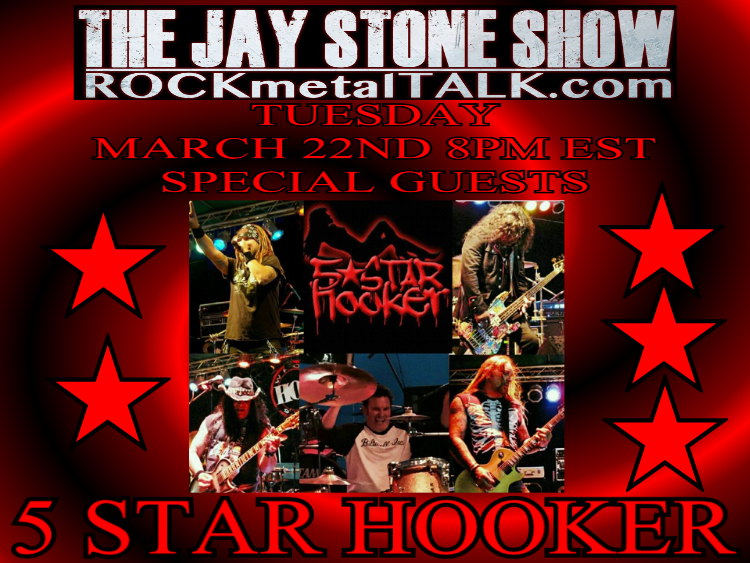 RAVEN FROM 5 STAR HOOKER came by the studio for some dog farts, beer and to talk
Shit with me about mr nasty, Joey and Dee's passing, the New CD
and just music in general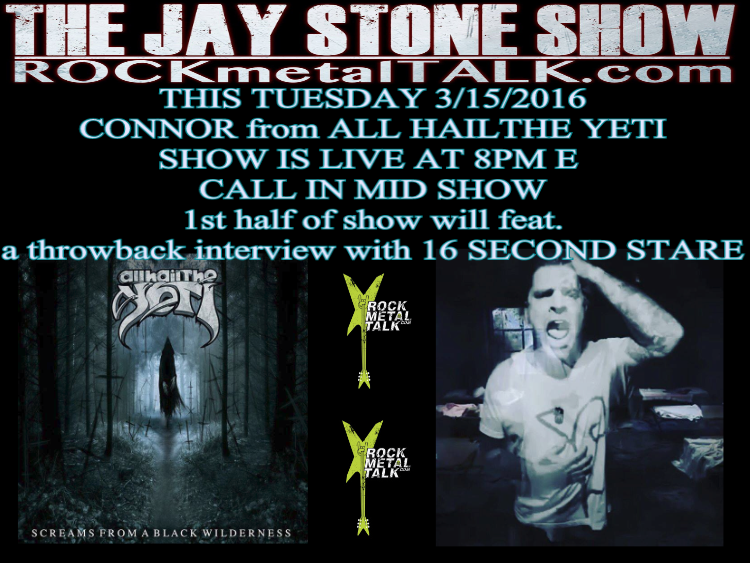 Connor from ALL HAIL THE YETI
We discuss the brand new album
SCREAMS FROM A BLACK WILDERNESS
name changes, recording touring and all things yeti tune in
as this will go down as a classic interview.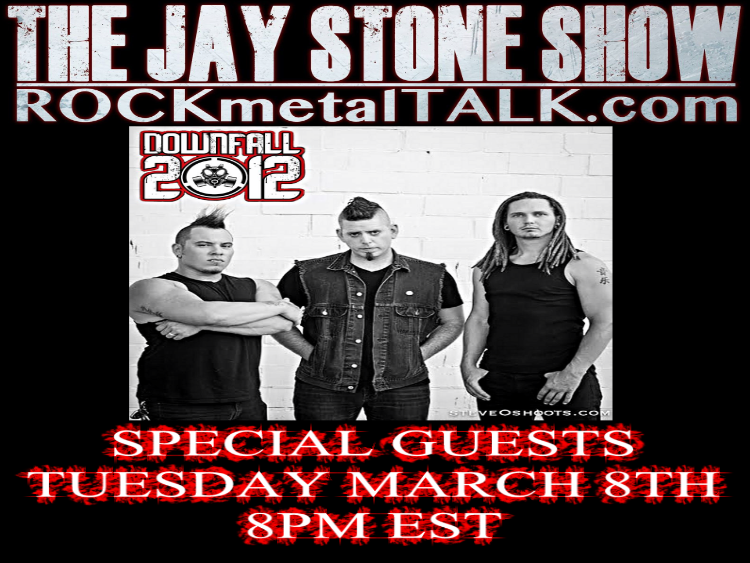 DANNY FROM DOWNFALL 2012 this was a great interview call in sound was excellent
We discuss all things DF2012 and More.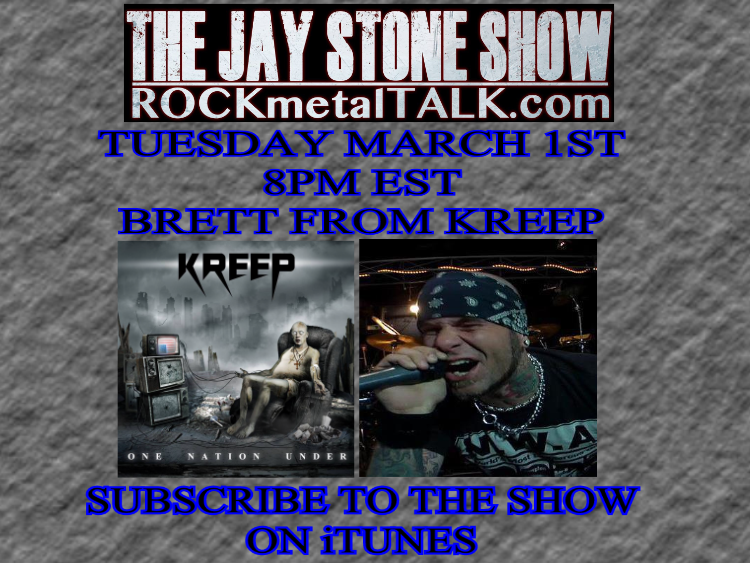 BRETT FROM KREEP CALLED IN TO TALK SOME SHIT ABOUT HIS NEW CD
WORKING FOR SKID ROW, AND SOME BILE MEMORIES.
Brett has Been in GREEN JELLO BILE KREEP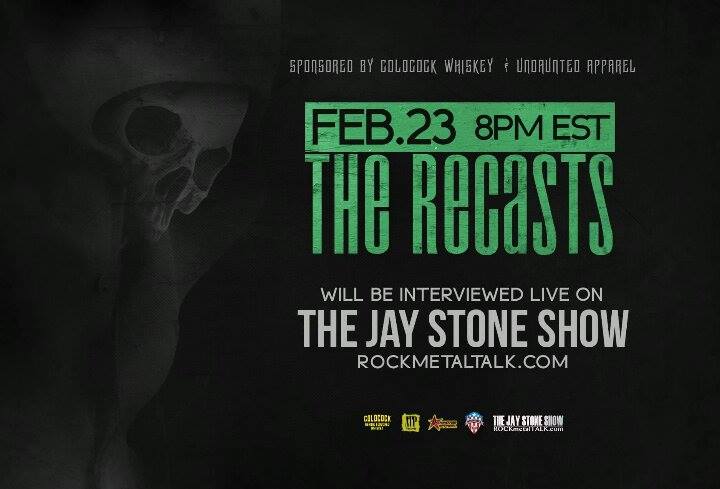 THE TEXAS BAND THE RECASTS CALL IN TO TALK MUSIC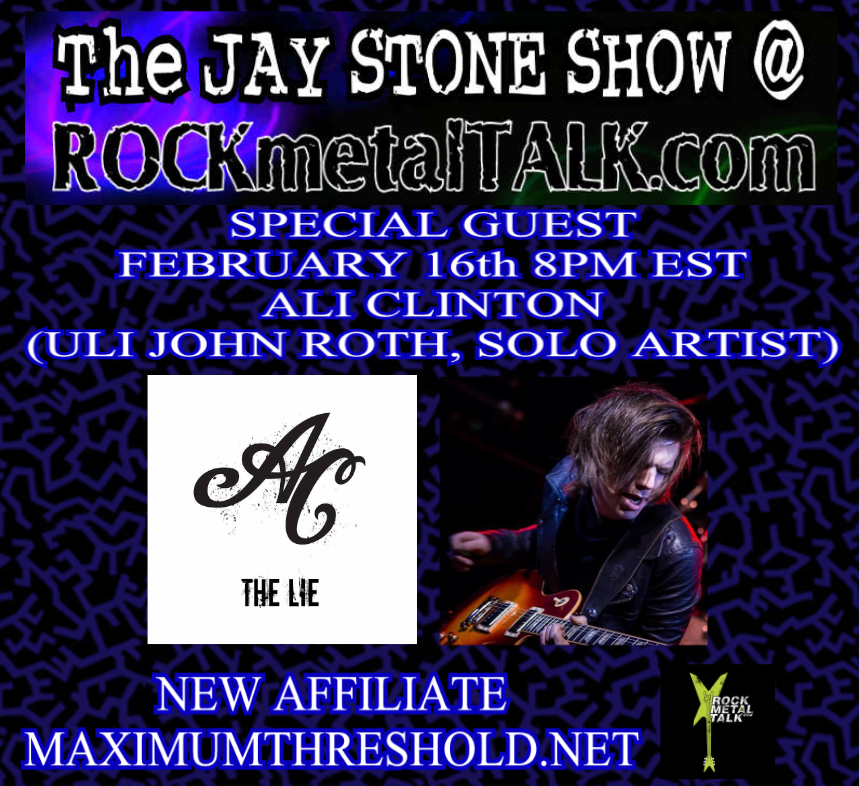 ALI CLINTON CALLS IN FROM THE U.K.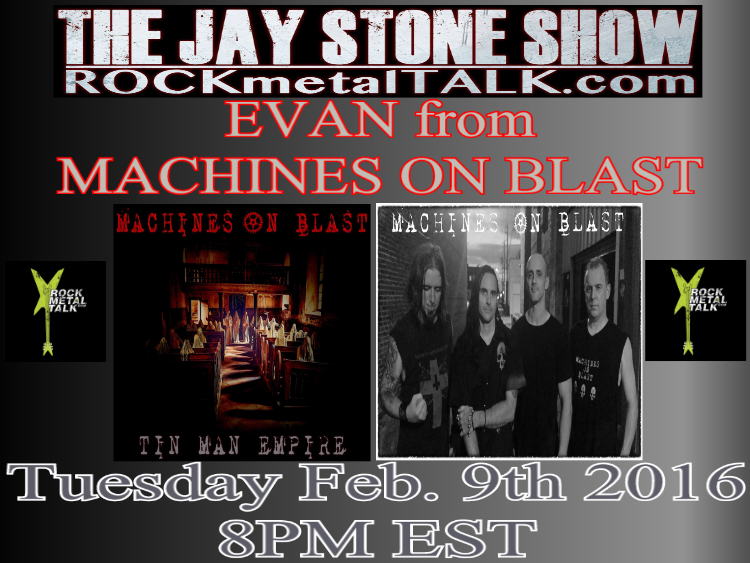 EVAN FROM MACHINES ON BLAST
DISCUSS ALL THINGS MUSIC , NEW ABLUM, LIVE SHOWS
AND MUCH MORE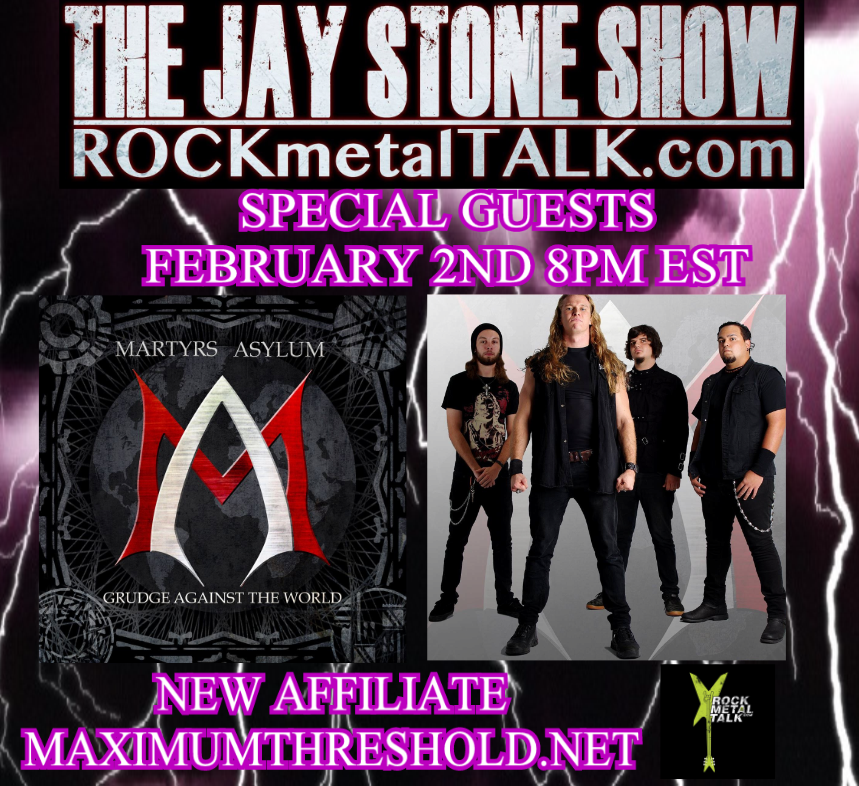 ON THIS SHOW MARTYRS ASYLUM PERFORMS ACOUSTIC
LIVE IN "STUDIO"
We talk about new music, touring, songwriting, road stories and Much more
Definitely a show that is going down in the Jay Stone History book!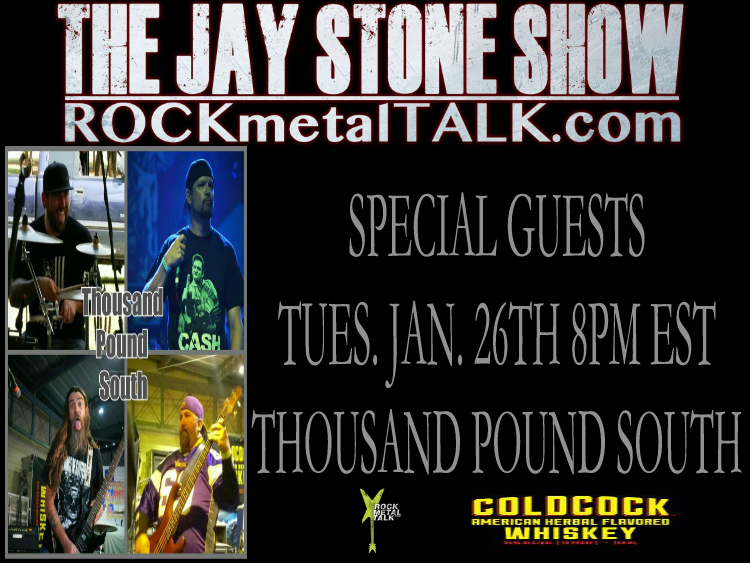 On this Episode THOUSAND POUND SOUTH call in with their Texas Charm and Discuss
the new Line up, Music, Shows and a few prison stories LOL... you dont want to miss it and you dont have to
Its here in the Archives like a tattoo forever.
also John from The Enemy Within called back in this week to talk about his and a lot
of bands disgusts with pay to play and not so worthy promotors.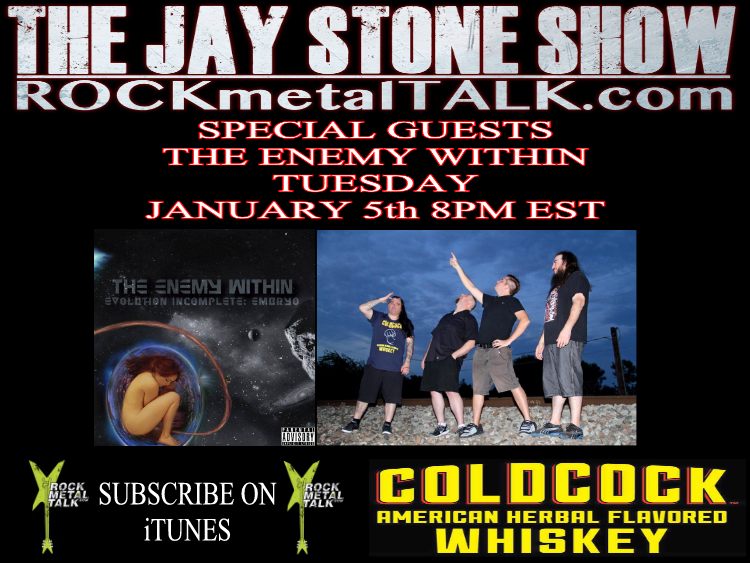 THE ENEMY WITHIN we talk about the new cd, music scene, upcoming shows the Death of Lemmy and the Big
GUNS n' ROSES REUNION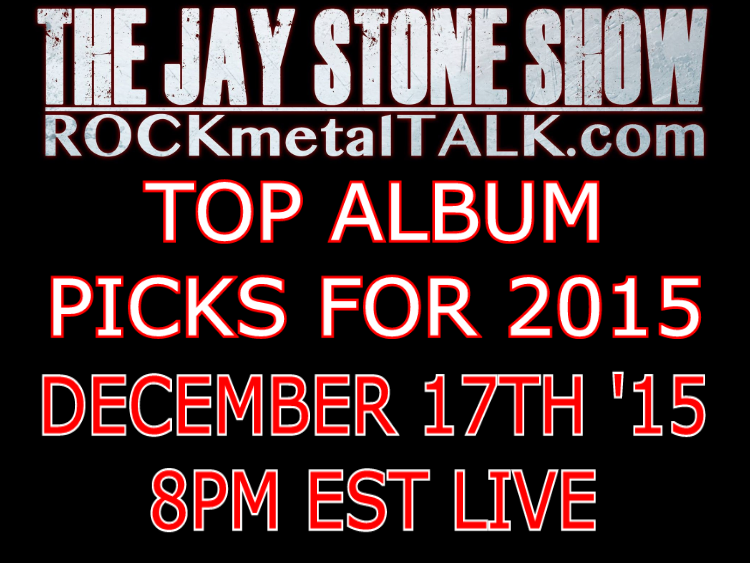 THIS SHOW PRETTY MUCH EXPLAINS ITSELF!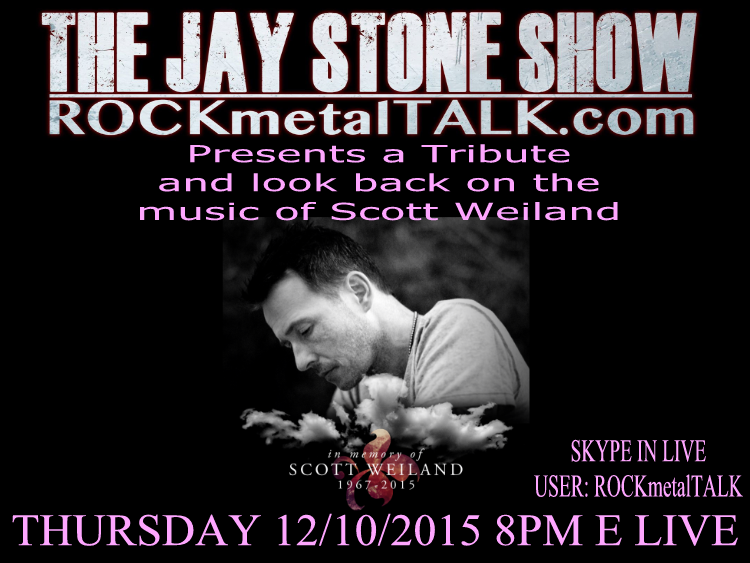 On this episode we pay tribute to the late and great Scott Weiland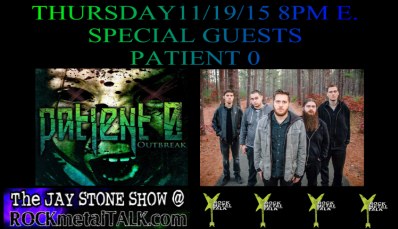 Paitent 0 is the guest we discuss their line up changes the 1st CD OUTBREAK, The New CD GLASS PRISON,
The Show Schedule, Influences, Song writing process, Lyircs, Paris Attacks and Much more.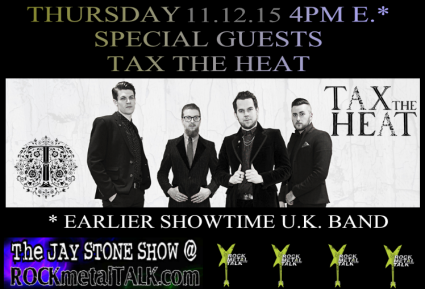 TAX THE HEAT from the U.K. we discuss their deal with NUCLEAR BLAST RECORDS, Coming to the U.S.,
Touring, Recording, The New single, The upcoming ablum, The state of music and the style and trends over in the U.K.
How the band came about and much more. If you Like the Foo Fighters, Rock, Metal and all the classics you will love TAX THE HEAT
My Predictions to be on of the hottest rock bands on the scene.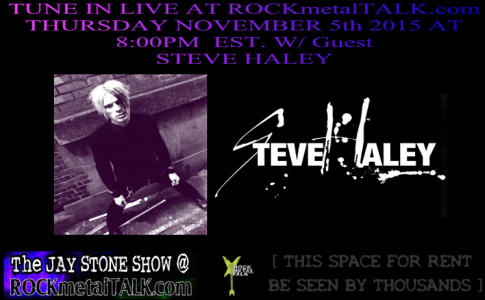 This episode features STEVE HALEY and DAVE of NYPHMO GEIST former HALEY, TRASHLIGHT VISION.
We discuss Old Times, the new band, CD, Music, Tour Merchandising and His show with Bam Margera
STEVE HALEY has beeb a guest on the show more than any other artist/musician to date.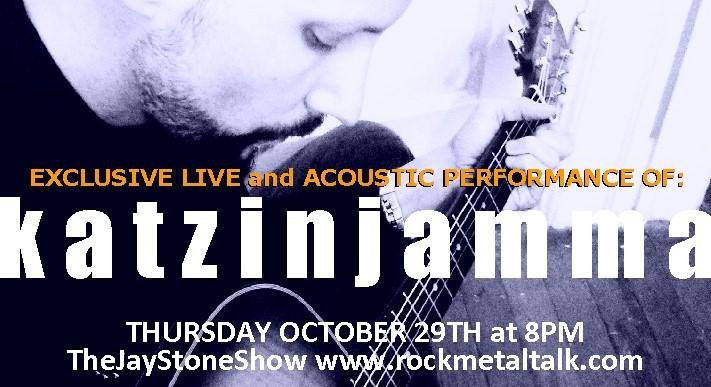 This episode Katzinjamma performs 3 live acoustic songs, we discuss these tracks
New music live shows, current news and rants and raves.The performance was successful if you like shows like this look forward
to more next year from other artists or check out some of these CD's
if you like live and acoustic music.
We also discuss why I add yamma yamma yamma to his name when I talk about him .
This was a great show and he was the only other artiwst to perform live on the show
in 8 plus years besides TAMPA'S
very own YOSHI GISH
.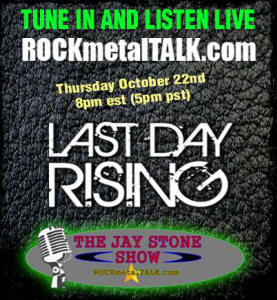 On this epsisode with Last Day Rising
we discuss the Los Angeles music scene their brand new e.p.,
The songwriting and recording process, The future of the band and their new music.
We also discuss Darwins Previous Band Carbon 9 If you like STP's Core
, Art of Anarchy
's Debut or just a fan of rock and metal
I think you will fall in love with their music A very catchy modern rock style.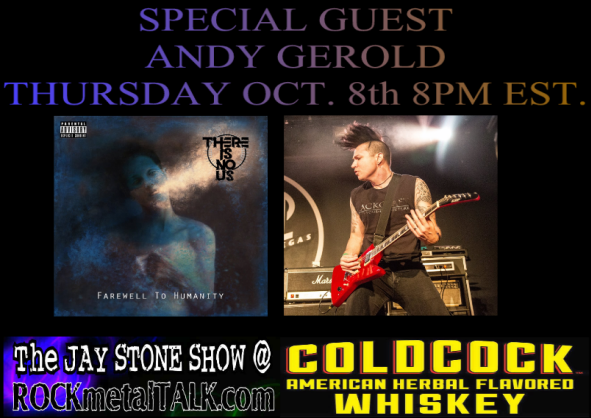 This Episode Features Andy Gerold former MARILYN MANSON
Ashes Divide 16 volt and
Founder of the Killer Las Vegas Band There is no Us.
On this episode we discuss the brand New limited addittion E.P.
Merchandising and Music sales, Upcoming shows, Rock of ages, Virus of dope, Device, Big and Rich
and Much More.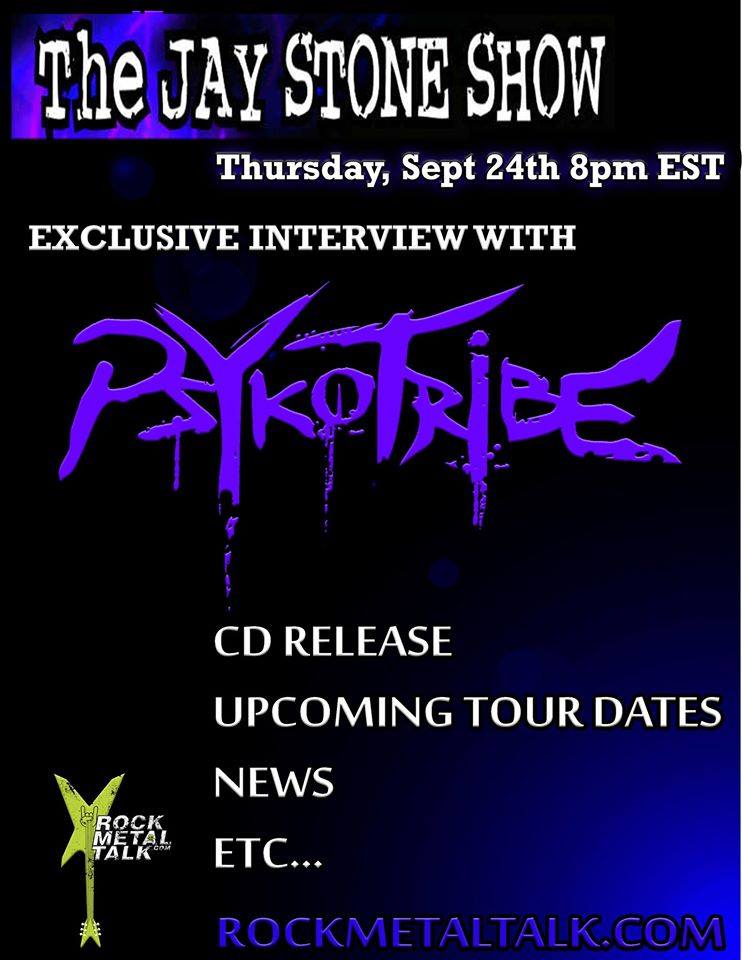 This Episode features James of the Band PSYKOTRIBE
He called into discuss the bands brand new ablum we talk about facebook
crowfunding and Pay To Play tickets sale shows the studio time involved in recording
Record Deals Tours and Shows with Mushroomhead
, Soulfly and much more.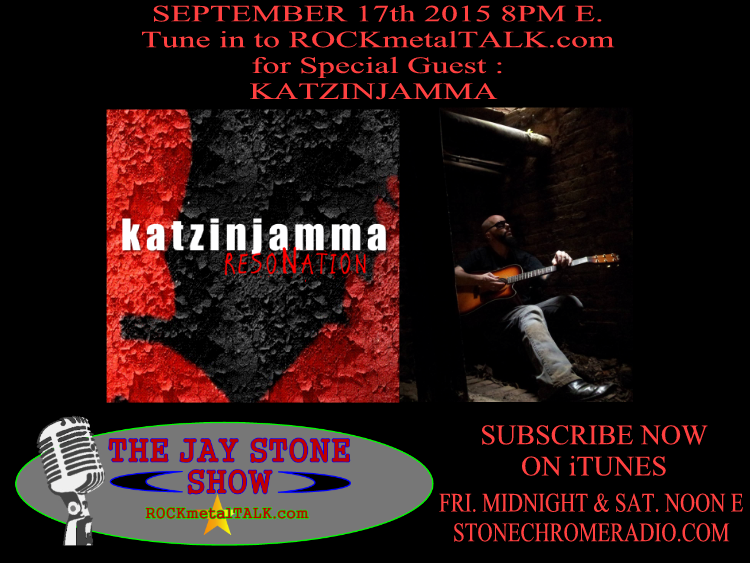 This Episode with KATZINJAMMA started a great friendship between KATZIN
and Myself... we discuss how he got his name to friendship and band time with 9 electric
's MICAH
His Dinner with KINGS X
, The state of the music industry and music in the 90s coming up.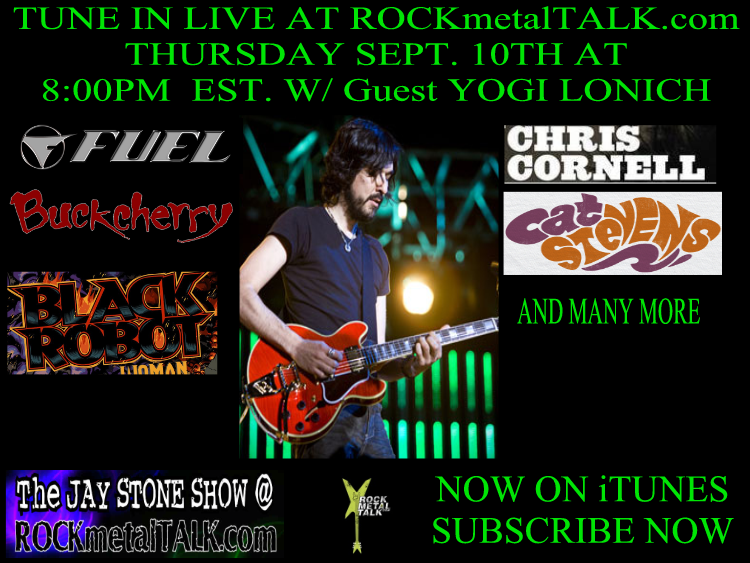 This Interview Somehow went Missing as well so Recap text will have to be update
YOGI LONICH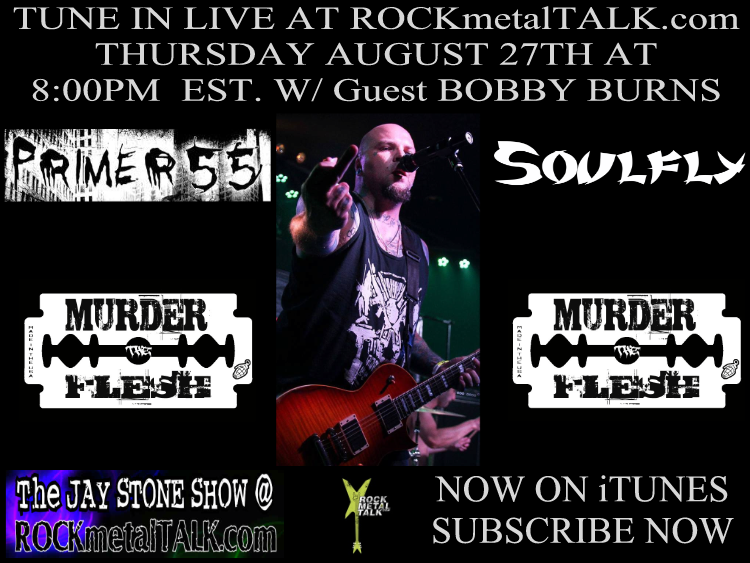 On This episode ummm well it really didn't happen as planned
One of the very first people to stiff the show. I was and still am a big fan of his music
in PRIMER 55
, thats all I will say you will just have to tune in for this one.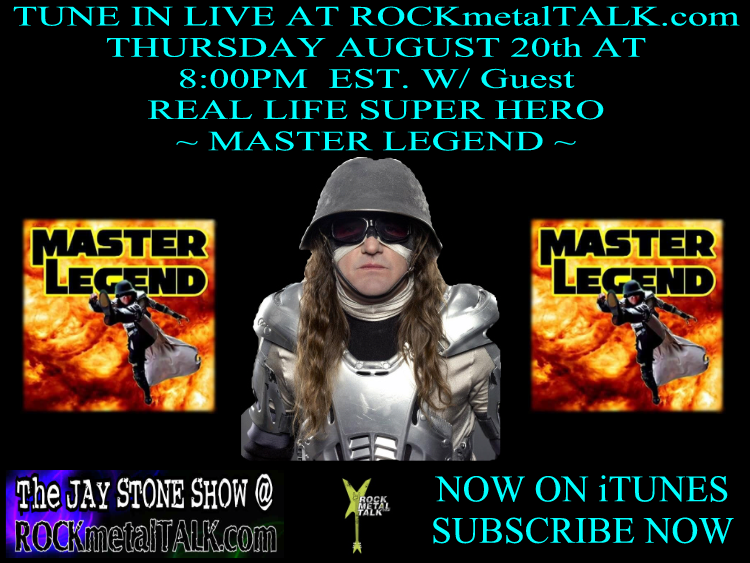 Master Legend one of the most workd famous real life super hero's

This man protects ORLANDO FL.
from crime, Helps the homeless and stray animals
gives up his own time and meals to help others and yet is still working a day job
everyday and yet still finds the time to help people call in to radio shows as well as broadcast his
Own we discuss this the documentries and his disgust for the way he was portrayed as well
as the EXCLUSIVE ANNOUNCEMENT of an AMAZON
.COM TV ORIGINAL based
on "THE ADVENTURES OF MASTER LEGEND" in production.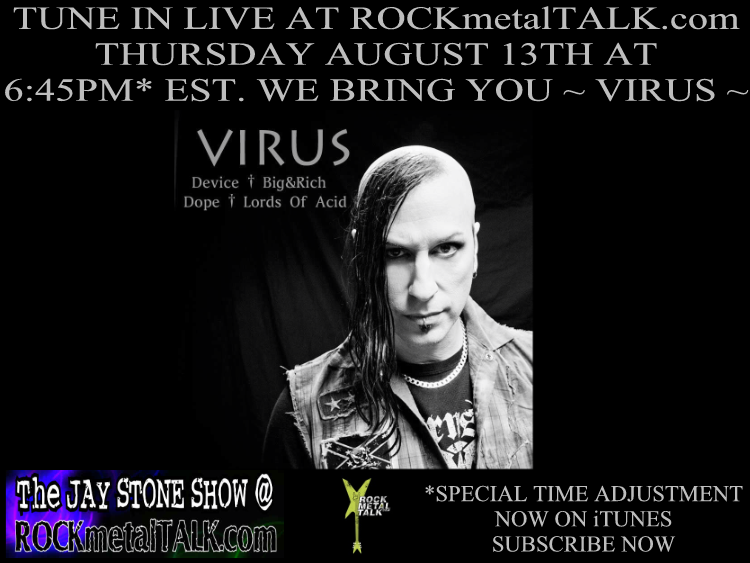 This Episode is with VIRUS of DOPE
Device
BIG AND RICH
and LORDS OF ACID

This is a short interview as VIRUS was calling in from his gig on a cruise ship out in the BAHAMAS playing in shows like
ROCK of AGES and Burning the Floor,We also discuss the difficulties of touring
performing as a cruise ship ROCK STAR! how he got such great gigs
and how he won the audition to play guitar in the broadway version of SPIDERMAN

DOPE's future, Device past, present and future all that and more at ROCKmetalTALK.com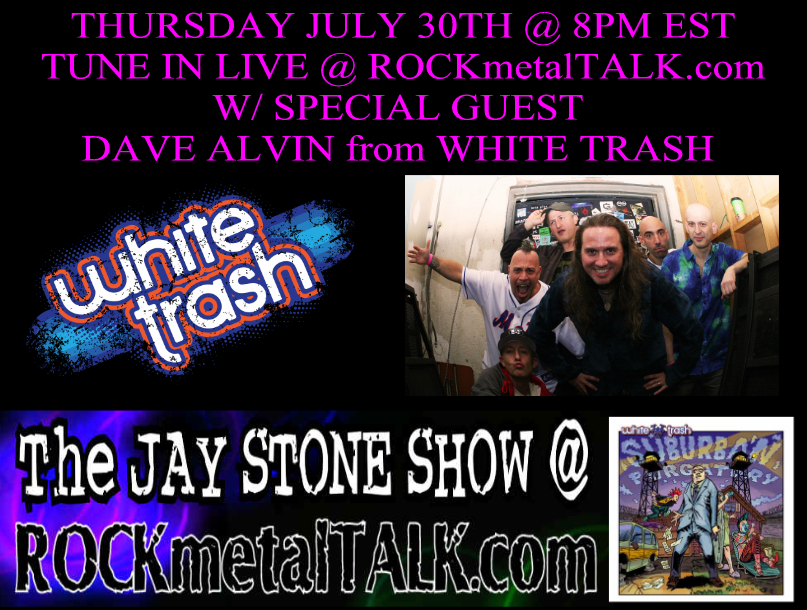 Dave Alvin Calls in to The Jay Stone Show to discuss the band history
the NEW CD Suburban Purgatory
, Previous members and albums
The Strange Encounters including one with the 80's Hair Metal
Twins NELSON
.
How the MTV Music Television
hit video was actually the demo of APPLE PIE and
Not the Elektra records recorded version and much more tune in to one of the
Best Shows Currently on ROCKmetalTALK.com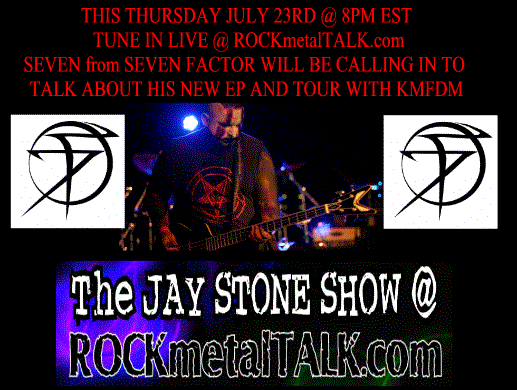 On This Episode the Great SEVEN FACTOR this interview some how disappeared
So I will have to update recap text soon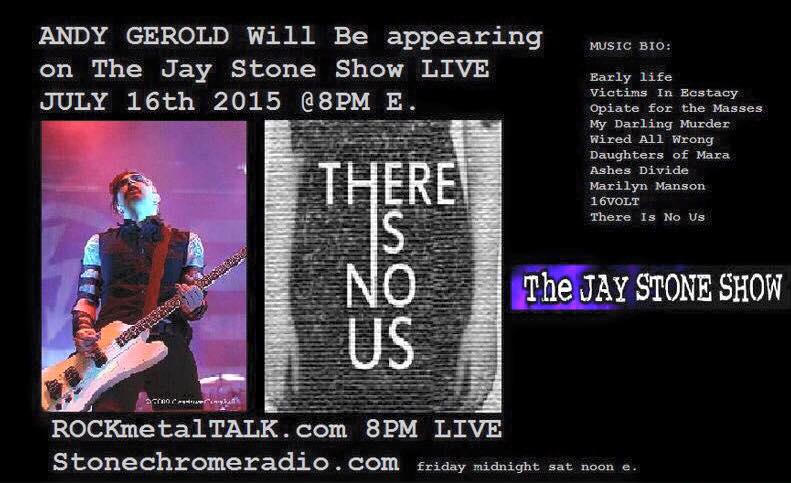 The 1st call in for frequent guest ANDY GEROLD we discuss touring with MARILYN MANSON
16VOLT
and ASHES DIVIDE
ANDY answers all the questions we presented him with and
it's a great pleasure to always have him on the show.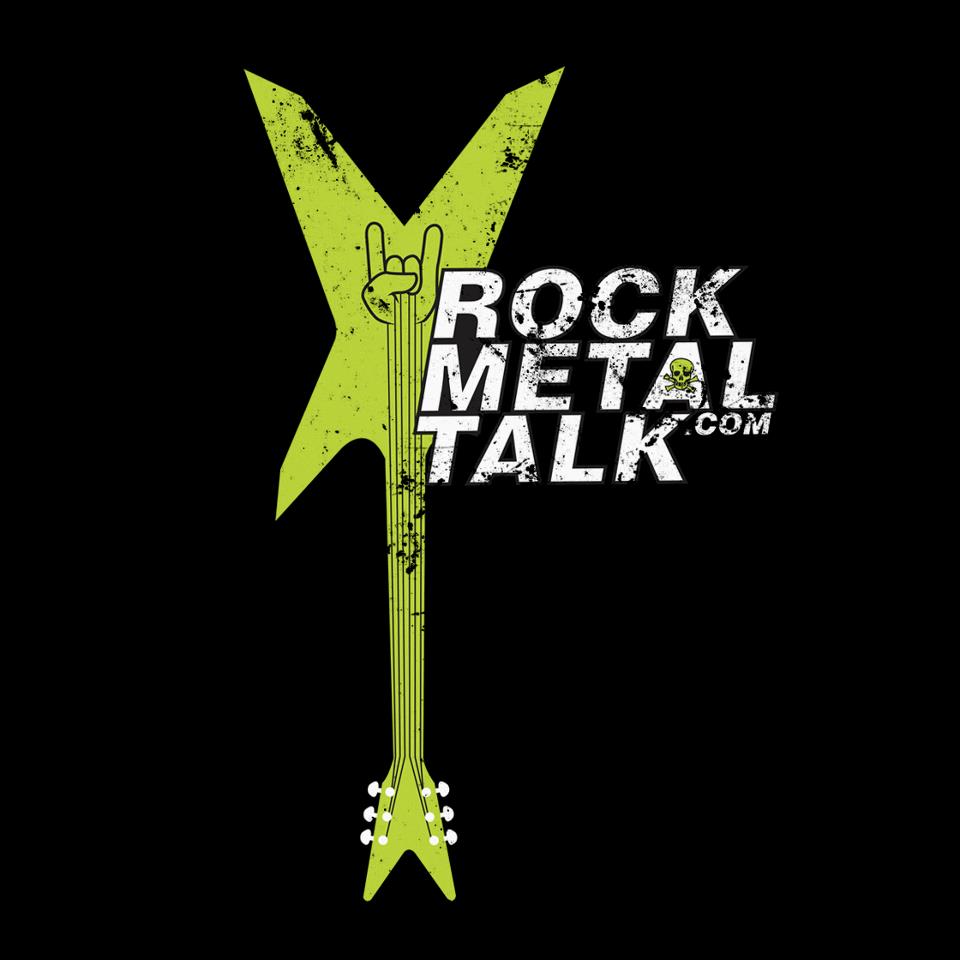 AFFILIATE, INTERVIEW, ADVERTISING & SUBMISSION INQUIRIES: jay@rockmetaltalk.com
jaystoneshow.com - jay stone radio show - its rock its metal its talk - rockmetaltalk.com
grindstonerecords.com - lostappetite.com - Banka and Stone Show
Don't Censor Me - Spoiling The Dead - King of No Media
All a part of Grindstone Your Mother Productions / ROCKmetalTALK.com
ã and Published 1997-2017 All Rights Reserved
ROCKmetalTALK.com TM founded 2008
All Music and Band Images are owned by the respective artist and used
strictly for promotional purposes only with permission.